Madeleine Morley:
Modernist Utopia at London Zoo
In the summer of 1934, a strange spectacle appeared near Regent's Park in North London. Families and architecture enthusiasts alike stared in amazement at two reinforced concrete ramps weaving together effortlessly as if floating in air. And it wasn't just the feat of architectural engineering that caused the stir. Marching down their glorious new walkway, posing for the crowds in their dinner-jacketed attire, were the city's latest attraction: a rookery of Antarctic penguins.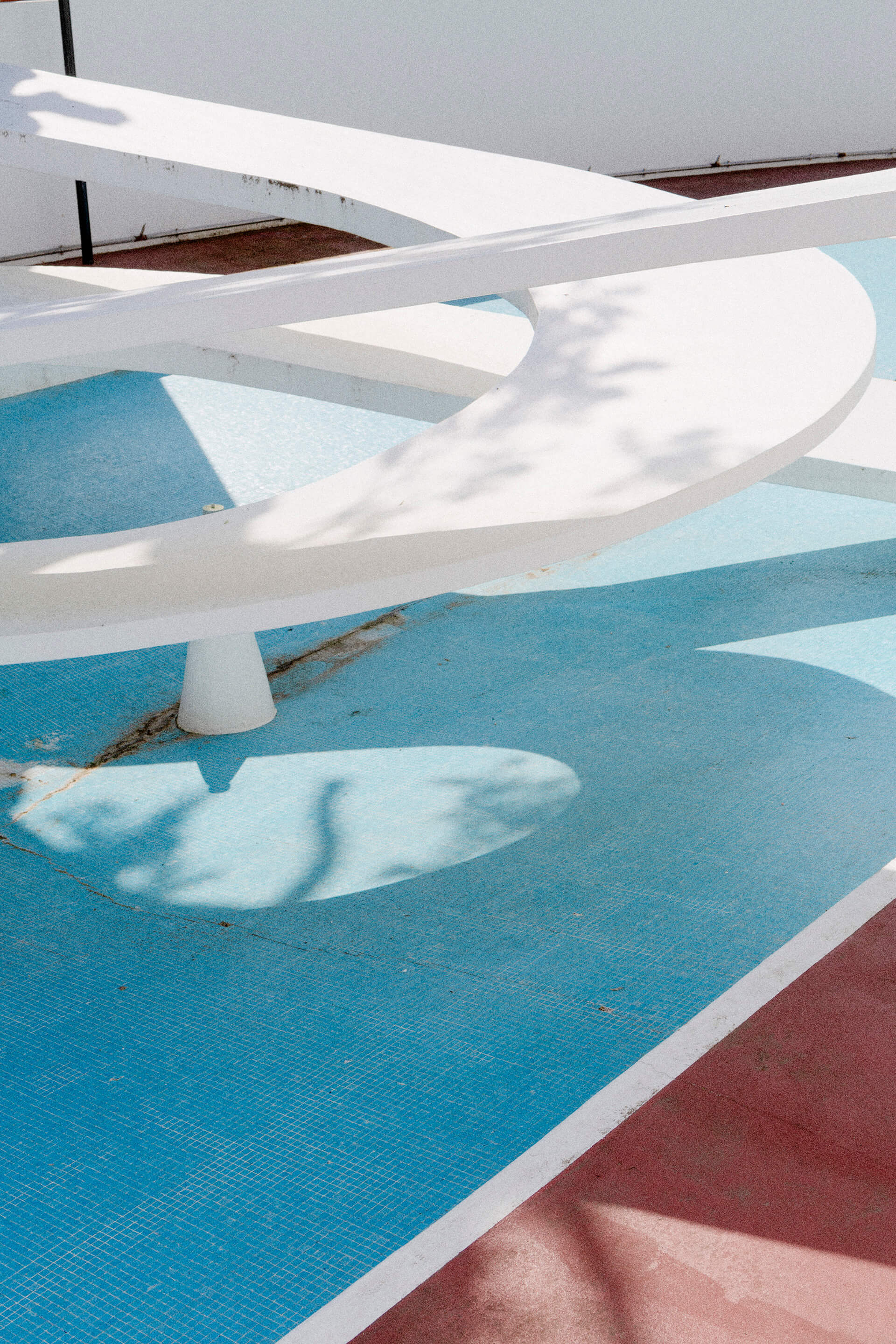 Today, the iconic Penguin Pool, with its double helix ramps designed by Soviet émigré architect Berthold Lubetkin of Tecton Group, is a Grade I listed building at the Zoological Society of London (ZSL). It's one of several experimental structures built at the zoo, which has a long history of applying the architectural ideas of a period to the housing of its animals, so much so that architectural critic Ian Nairn has famously likened it to an "architectural Tower of Babel." Yet how the animals themselves have felt about living inside models of avant-garde architecture is a whole other story. Indeed, the Penguin Pool, Lubetkin's Gorilla House, and the elephant and rhino house designed by Sir Hugh Casson all failed to meet the needs of their inhabitants—circumstances that are hard not to compare to the decline of modernist and brutalist movements at large.
For Solly Zuckerman, the British zoologist and research anatomist driving many of the zoo's early 20th century commissions, there was only a small degree of difference separating animals from human beings. He believed that if modernist architecture could provide hygienic, efficient new living quarters for people, surely the same could be done for other species. Of course, swapping traditional habitats for monuments of modernism also had the added potential to draw more crowds to the zoo, but not at the expense of scientific integrity. As Peder Anker puts it in The Bauhaus of Nature, "It was the promotion of public health and not amusement which prompted the zookeepers to build modernist architecture."
Loosely modeled on the shape of an egg, Lubetkin's Penguin Pool, and its off-kilter ramps which cascade to the water like a slide, are meant to remind visitors of the comical movements of the birds themselves. When it opened, it was hailed by numerous architectural critics as a delightful piece of theater with which to display the penguins to the public. And initially, the penguins seemed to agree. Free from predators and enjoying regular food, they appeared to the zookeepers to be healthy and happy. But as it turns out, reinforced concrete is not a viable long-term replacement for soft sand. The famous ramps caused the birds to contract bumblefoot, an inflammatory bacterial infection, and the pool itself wasn't deep enough to allow them to swim properly. In the 2000s, the penguins were moved to Penguin Beach, a re-creation of a South American beach landscape complete with sandy nooks, private nesting areas, a 4,000-square-foot diving pool, and a nursery for baby chicks. Lubetkin's pool has been repurposed as a "water feature;" its contemporary function simply provides shade for worn-out zoo visitors.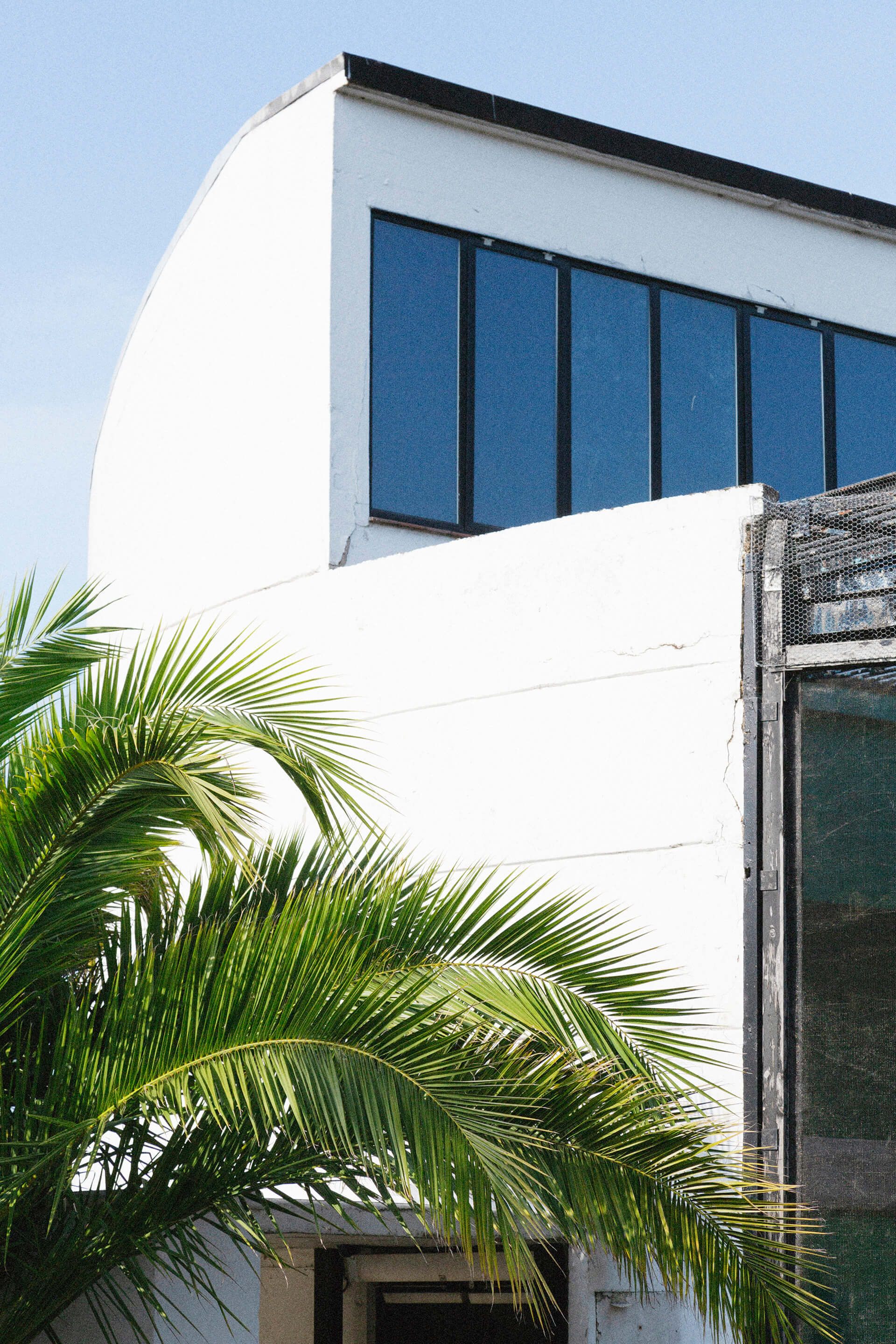 Lubetkin's first commission for the zoo, which was finished in 1934, proved even worse for its inhabitants than the Penguin Pool. The Gorilla House, as it was then known, consists of a circular structure, one half of which is reinforced concrete and the other half a sliding door. The dual construction intended to protect the zoo's two new gorillas babies, Mok and Moina, while also displaying them to the public. Since zoologist Zuckerman believed that the life of primates was "a crude picture of a social level from which emerged our earliest human ancestors," he felt it was crucial to place to gorillas in a home that exposed its man-made modifications that aimed to keep them healthy. Lubetkin's Gorilla House therefore had running water, air-conditioning, and sliding dust-screens, so that visitors could witness the benefits of modern domesticity for themselves.
Unfortunately, Mok and Moina died after being moved into their new designer home. Today, the zoo's troop of western lowland gorillas lives in the Gorilla Kingdom, with a large, grassy clearing, a hidden island for privacy, and an indoor gymnasium featuring ropes, ladders, and immense wooden climbing structures. The Gorilla House, in turn, has been renamed The Round House, and has housed a variety of different species in recent years including a colony of fruit bats and a Ring Tailed Lemur.
Peter Chalmers Mitchell, the secretary of ZSL between 1903 and 1935, believed in the liberating potential of modernist design, and that the theories tested on zoo animals could be translated to the poor, who were also "in desperate need of being liberated from their natural conditions of criminal and filthy slums." It was "of revolutionary importance to display thriving animals in an unnatural setting as if to prove that humans too could prosper in a new environment," writes Anker in The Bauhaus of Nature. Lubetkin applied the early 20th century's theories of mass social housing to his zoo architecture, including ideas of streamlining and cleanliness, as well as investment in the potential of new technology and materials. Sites like the Gorilla House and the Penguin Pool, as well as his curved concrete canopy kiosk, promoted a particular brand of modernism to the public, and were an exceedingly clever marketing strategy for the new design approach.
ZSL's modernist homes were a blueprint for the future of a human metropolis on the one hand; on the other, a form of animal testing. And even into the '60s, Zuckerman was still keenly pursuing the idea that architecture could enhance the theatrical impact of the zoo. The Snowdon Aviary, for example, made pioneering use of aluminium and still punctures London's skyline dramatically with an array of lopsided triangles. In 1965, Sir Hugh Casson was commissioned to apply his brand of brutalism to a pavilion for elephants and rhinos. Casson's curved walls and asymmetrical timber, copper-clad roof frames set out to deliberately display the massive animals in the most dramatic way possible. Critics celebrated how the wrinkled concrete looked just like coarse elephant hide, and how the sculptural shape of the structure whimsically gestures to the sight of a herd around a watering hole.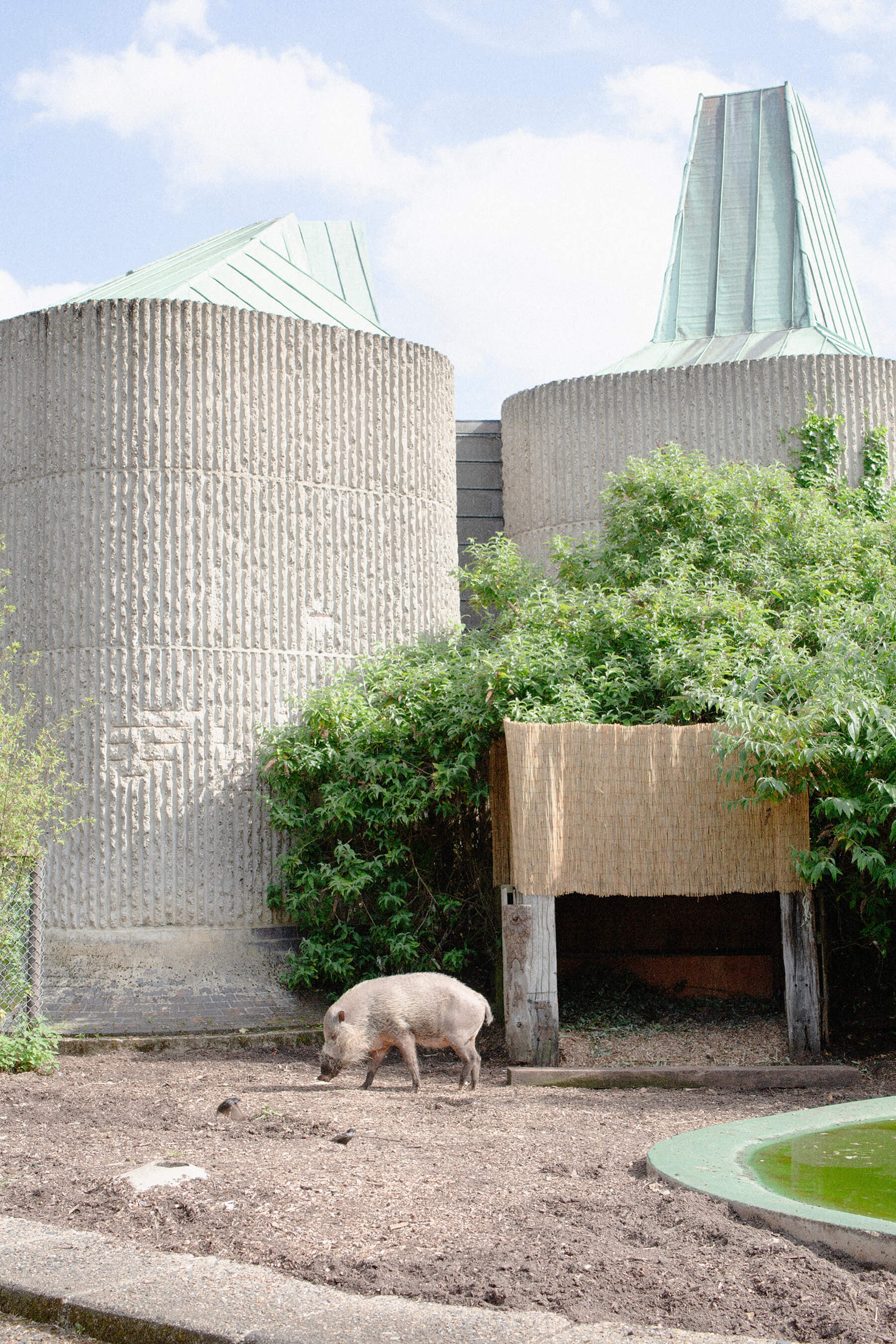 Despite receiving the Royal Institute of British Architects award for the best building in London at the time, The Casson Pavilion is now also obsolete, at least from its initial purpose. In recent years, the elephants have been relocated outside of London (they now live at Whipsnade Wild Animal Park in Bedfordshire) so that they have more space, and the Casson Pavilion is home to a sounder of bearded pigs who like to sunbathe in the sand beneath their green-tipped concrete castle. The building's future is still subject to ongoing debate.
Once celebrated as a tool for solving the problems of poverty and mass housing, many modernist and brutalist projects have suffered a similar fate to those at the ZSL. They've been repurposed or even demolished, found unsuitable to their specific geographic and environmental contexts or unable to cater for the dynamics of family life and diverse needs of their inhabitants. The story of the ZSL is a contemporary fable of sorts—a warning against technological utopianism and attempts at universal solutions. One size doesn't fit all, regardless of species.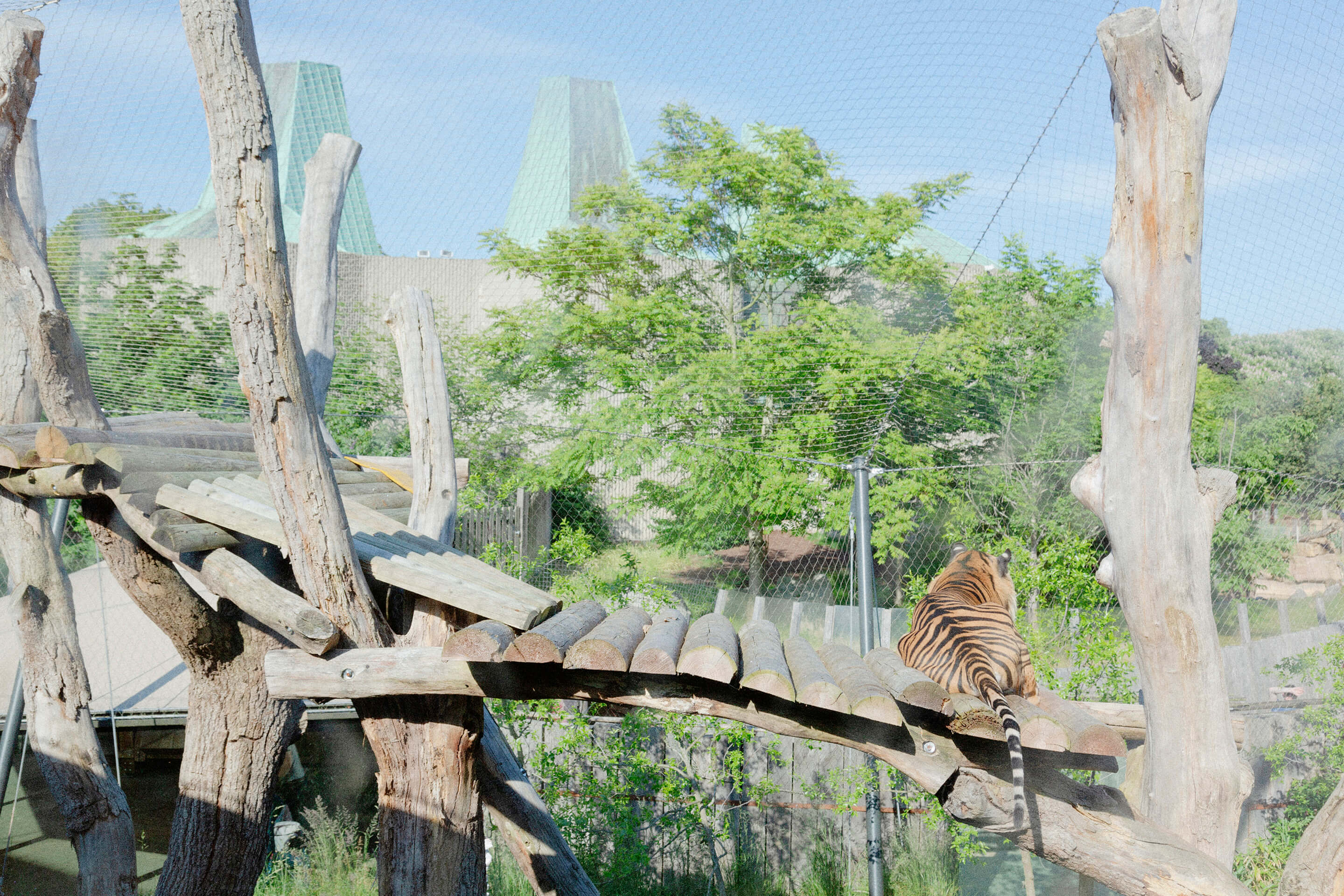 Madeleine Morley is a design and art writer from London based in Berlin. Her writing has appeared in Dazed and Confused Magazine, The Observer, AnOther, 032c, Elephant, Eye, Creative Review, and many more. She was previously editor of the magCulture journal and is currently an editor at Eye on Design magazine. She lectures regularly on design and media.
This article was first published on December 6th 2019 via AIGA Eye on Design and is excerpted from the sixth issue of Eye on Design magazine.